01.23.19

What Books Are Included in Our Reading Reconsidered English Curriculum?
As you may know, we're writing an English curriculum, my team and I.
As I've discussed elsewhere, it's based on the reading of novels, challenging & demanding novels, at every grade level. It's flexible and modular–teachers and schools can select from a range of books. It's knowledge-building and writing intensive. It reinforces Close Reading of complex text. There's a ton of nonfiction. It stresses the joy of reading. It's moderately obsessed with vocabulary.
But, a lot of people have been asking: What books?? The books really matter! Are they challenging? Do they reflect and honor diversity? Do they reinforce cultural capital? Will they inspire kids (and teachers)?
We hope so! We spent months choosing them and consulted a team of experts to guide us. The list is still in draft form but here it is. (And we promise it will have a better name than "The Reading Reconsidered English Curriculum" soon!)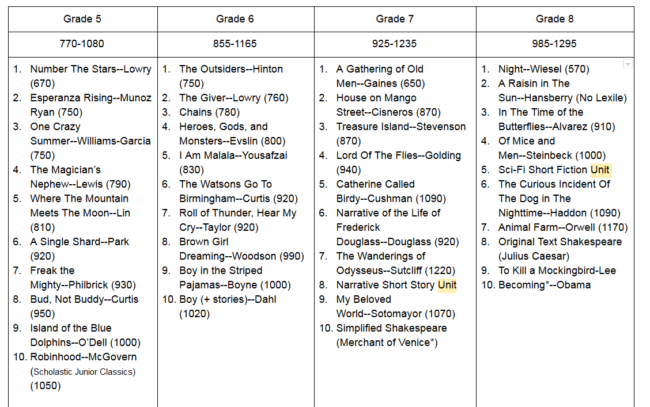 Some notes:
There are ten books per grade. We think six books makes a full year's study in most cases. So schools and teachers can select their 'best six' from the list. They can even use a book in a different grade level than we propose it.
In our first round we'll develop six of the ten at each grade level to get things into teachers' hands. Then we'll fill out the rest of the list.
After that we may add more books or move on to other grades.
The numbers in parentheses are Lexiles. We care about Lexiles but don't obsess on them… we think there's a lot more to a great book and that they are useful but flawed in assessing text difficulty.
There's some memoir built in. A few plays. Some short story units. When we say novels really we mean great literature in sustained chunks.
There's no perfect list. Of that we're sure. But we tried to balance a lot of factors and like what we've got. Plus we think it gives teachers the opportunity to choose a sequence of texts that matches and challenges any group of students.
More soon!
[UPDATE: Whoops… left the author of "Chains" off the list… It's Laurie Halse Anderson (and it's a great read}