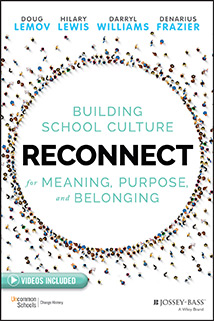 Reconnect: Building School Culture for Meaning, Purpose, and Belonging
In Reconnect, the authors offer hands-on solutions to the sense of isolation and disconnection many young people feel from and within their schools. They explain how schools can foster a stronger sense of belonging while also ensuring academic rigor at a time when both are sorely needed. The authors draw on their own extensive experience leading schools to show readers how environments that help young people to thrive and become flourishing members of communities can be built.
An essential resource for K-12 teachers and administrators working in public, private, and charter schools, Reconnect will also prove itself invaluable for education professionals working in underserved communities and parents and community members involved in the improvement of children's education. Readers can extend their learning through complimentary access to videos and downloadable assets that can be used within and outside the classroom.