Reading Reconsidered Curriculum
A curriculum written by and for people who love books.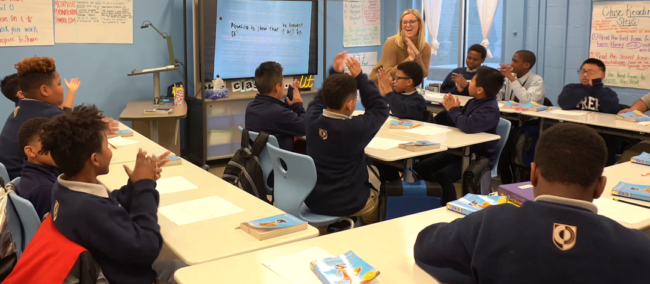 Pilot our
Curriculum Resources
To purchase one or more individual curriculum units, complete with both student and teaching facing materials, please click here below.

Purchase a
Digital Subscription
If you've already purchased a curriculum unit, please click below to subscribe to our digital platform and gain access to training and implementation resources.
Would you like to learn more? Email us at:


What's Distinctive About Our Curriculum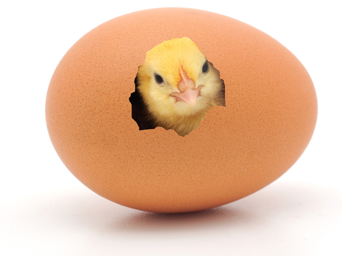 Knowledge Driven
Cognitive Science tells us that background knowledge is at least as important to reading comprehension as reading "skills." Knowledge—of history, science, literary terms, vocabulary—is the chicken and the egg. Knowledge is the outcome of successful reading as well as the wellspring that feeds it.
Our approach to building and reinforcing knowledge is driven by the texts we read and aimed at building lasting knowledge. We infuse our lessons with relevant knowledge to support comprehension and deeper analysis of the texts we read in the curriculum. At the same time, we seek to build a strong base of knowledge that increases student understanding of important ideas and concepts that they are likely to encounter in the future, and we provide opportunities to encode that knowledge into long-term memory.
Vocabulary
Vocabulary is an important form of background knowledge.  Isabel Beck, author of Bringing Words to Life, tells us, "People with more extensive vocabularies not only know more words but also know more about the words they know. Depth of word knowledge correlates almost as strongly to reading as breadth of knowledge."  A knowledge based approach helps to build that depth which is why we incorporate Explicit Vocabulary instruction 2-3 times per week with ample opportunities for students to use and apply words in fun and challenging contexts.  Additionally, we provide suggestions and support for Implicit Vocabulary instruction to support student comprehension during reading as well as create opportunities for kids to utilize previously taught words.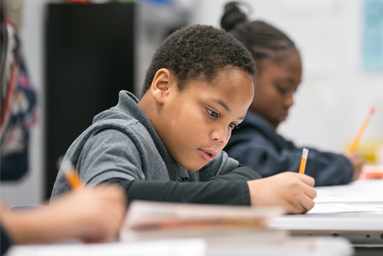 Writing Intensive
Writing is among the most important thinking work that students can do. It's also among the most challenging tasks for students, and one of the hardest to teach. Strong lessons ensure that students learn to write to develop and refine their understanding of text. Our curriculum asks students to write—constantly—in three different ways:
Formative writing consists of exercises that let students use writing as a tool to develop and expand their thinking—to "think in writing."
Developmental writing consists of exercises, embedded in the content of the reading, that seek to develop students' syntactic control by focusing on craft at the sentence level. With this type of writing, students focus on how they express their ideas.
Summative writing asks students to form and develop short answer responses, paragraphs, or essays that explain and provide evidence for a more developed argument about the text.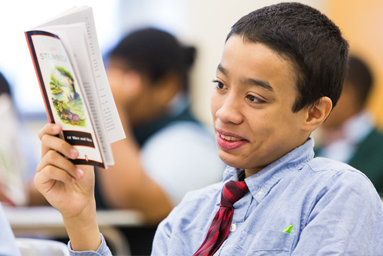 Book Based and Modular
Our units seek to put the text—and often reading the text with classmates—at the center of the lesson. One of the first things you'll notice about our curriculum is that lesson objectives are text-driven: they describe what we want students to understand about the passage of text they are reading that day. Most likely you will never see the same lesson objective twice. They're unique to each lesson because they are specific to the passage or text.
We think a great curriculum should be modular, meaning that a school or a teacher can choose from a variety of outstanding texts at a given grade level to assemble their own scope and sequence for the year. Our curriculum is built in roughly six-week units, and schools can purchase one unit or as many as they wish.
Building a Culture of Reading
We ask students to engage with text in three different ways: Accountable Independent Reading (silent, autonomous reading), FASE Reading (shared read-aloud between students and teachers), and Read Aloud (teachers reading texts out loud). These last two forms of reading are especially important to us and represent a departure from many curriculums. Reading, we believe, competes with other forms of media for students' attention and interest. Using social oral reading is a powerful way to build a culture of pleasure not only in texts but also in the act of reading. Students hearing their teacher and peers read out loud with joy and expression connects them to the idea that the book is relevant, worthwhile, and joyful.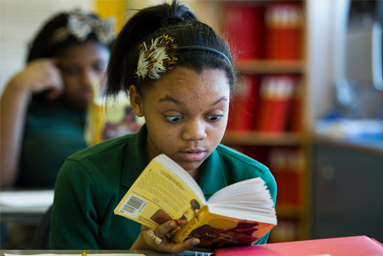 Curriculum Aligned Professional Development
We provide engaging  professional development opportunities to  support teachers and leaders in their implementation of the Reading Reconsidered Curriculum. Curriculum writers lead professional development sessions both in-person and in remote settings where we leverage video and practice to support student achievement.

Would you like to learn more? Email us at:


Novels
Choose the novels you want to read with your students.
Grade 5
Lexile Level: 770 – 1080
• A Single Shard by Linda Sue Park (920)
• Bud, Not Buddy by Christopher Paul Curtis (950)
• Inside Out and Back Again by Thanhha Lai (800)
• Number the Stars by Lois Lowry (670)
• One Crazy Summer by Rita Williams-Garcia (750)
• The Magician's Nephew by C.S. Lewis (790)
• Where the Mountain Meets the Moon by Grace Lin (810)
• Wonder by R.J. Palacio (790)
Grade 6
Lexile Level: 855 – 1165
• Boy: Tales of Childhood by Roald Dahl (1020)
• Brown Girl Dreaming by Jacqueline Woodson (990)
• Chains by Laurie Halse Anderson (780)
• Esperanza Rising by Pam Muñoz Ryan (750)
• Freak the Mighty by Rodman Philbrick (930)
• Heroes, Gods, and Monsters by Bernard Evslin (800)
• The Birchbark House by Louise Erdrich (970)
• The Giver by Lois Lowry (760)
• The Outsiders by S.E. Hinton (750)
Grade 7
Lexile Level: 925 – 1235
• I Am Malala: Young Reader's Edition by Malala Yousafzai (830)
• Lord of The Flies by William Golding (940)
• Narrative Short Story Unit by various authors
• Roll of Thunder, Hear My Cry by Mildred Taylor (920)
• The House on Mango Street by Sandra Cisneros (870)
• The Poetry Collection by various poets
Grade 8
Lexile Level: 985 – 1295
• Animal Farm by George Orwell (1170)
• A Raisin in The Sun by Lorraine Hansberry
• Narrative of the Life of Frederick Douglass by Frederick Douglass (920)
• Night by Elie Wiesel (590)
• Of Mice and Men by John Steinbeck (1000)
• Romeo and Juliet by William Shakespeare
• Science Fiction Short Story Unit by various authors
• The Wanderings of Odysseus by Rosemary Sutcliff (1220)
• To Kill a Mockingbird by Harper Lee (790)
• The Curious Incident of the Dog in the Night-Time by Mark Haddon (1090)
Future Development
The Dreamer by Pam Muñoz Ryan (650)
Bomb by Steve Sheinkin (920)
Haroun and the Sea of Stories by Salman Rushdie (940)
MC Higgins, the Great by Virginia Hamilton (560)
Catherine, Called Birdy by Karen Cushman (1170)
We believe many of these books can be used at different grade levels than we have proposed and support your using them as you see fit. In several cases, we have proposed books at two levels because particular considerations (e.g., mature content) or opportunities for enrichment exist.

Samples
Click below to see examples from our One Crazy Summer unit.

Videos
See teachers and students in action with the Reading Reconsidered Curriculum
Watch Christine Torres teach and practice Explicit Vocabulary with her 5th graders as part of the Number the Stars unit.
In this clip, Sarah Wright uses Turn and Talk and Cold Call to review a Do Now with her 6th graders during the Esperanza Rising unit.
During the Roll of Thunder, Hear My Cry unit, Hasan Clayton asks his students to make connections between the novel and a nonfiction article about the time period.

Contact
We'd love to hear from you!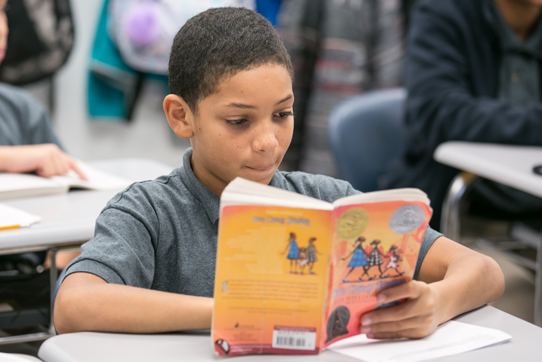 Interested in learning more, piloting a unit, or have specific implementation questions? Please reach out to us at: