06.26.15

On Vocabulary: How to write a definition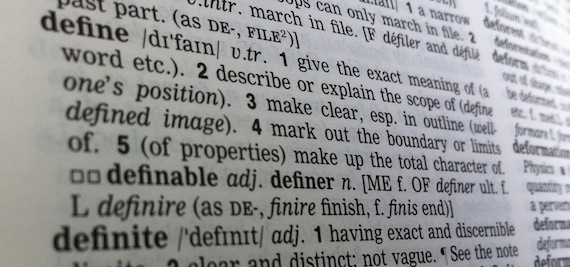 My team and I have been on a vocabulary binge, watching lesson after lesson to pick up best practices and commonalities among teachers. We see brilliant things but even so, we can't use all of the video. One single factor makes more vocabulary lessons unusable as exemplars than any other. Want to guess what it is?
The answer is probably a surprise. It's the definition the teacher uses. We see teachers do brilliant things with a word but use a definition that's problematic, either because it's inaccessible–too jargony and circular to be useful–or inaccurate–it's just not all the way right far more often than I would have guessed. Though this may seem like a self-evident and self-explanatory aspect of vocabulary instruction, crafting definitions that are both accurate and student-friendly is one of the most challenging and overlooked aspects of vocabulary instruction.
Given that, here are a few rules for definitions:
• Start by giving students a specific definition. Then ask them to apply their knowledge of the definition in increasingly challenging ways.
• When you provide students a definition, it's first crucial to plan them in advance. Definitions that are provided spontaneously are often inaccurate or fail to capture a word's precise meaning.
• Definitions should be student-friendly, written in language accessible to students. A tidy and efficient definition gives students the best possible chance of understanding and recalling the definition of a new word. We suggest 5-7 words generally, though there will be some vocabulary words you can capture in a three-word definition and some you can't capture in seven.
• The definition should also utilize the same part of speech and tense as the word is used in the text. Definitions that inadvertently imply a word is a verb when it's shown as a noun can be confusing and sabotage students' application of the word.
• The definition should also capture the word's common use and its nuance. For example, it might be tempting to define a word like respite as "a short break." However, when you take a respite you are taking a break from something difficult and it's almost always used with a preposition (Respite from…). A strong definition would have been something like "a rest from difficulty" and would note that it often appears with "from."
• Finally, the definition should be double-checked for accuracy. Unfortunately, inaccurate definitions are surprisingly common. It's useful to ask a colleague for a "peer-review" to ensure your definition is correct and precise.