06.29.13

Tour Guides as Teachers, or How I Got T-LaCk-ed on a Canal Boat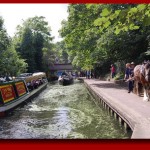 When I was in college it took me a year or two to figure out how to choose my classes, but in the end I found a foolproof method.  I chose by professor.  Anthropology of Sub-Arctic Societies or the Outsider in 20th Century Literature sounded in the course catalog, it would be hard slogging if the professor was dull and stay-up-all-night-to-finish-the-reading-life-changing if the opposite was true.  So I chose by teacher and the world seemed to revolve for a short time around the oddest of things—the films of Luis Bunuel, or the History of Medieval Japan.
I was reminded of those class selection days while in London with my family last week.  My wife and I took our kids on a whirlwind of activities, some of which proved unexpectedly outstanding and some of which a bit disappointing.  The reasons were similar- in this case the cause was the tour guide.
Take our canal boat tour from Little Venice to Camden Town aboard a century old canal boat—a "narrow boat."  Unheralded, quirky, a last minute addition to the itinerary, it was quite possibly the best thing we did in London.  The reason was the tour guide.  In an age of pandering-weak-kneed content-light , she was all business, in the best possible way.  She loved her content, delivered it unapologetically and with passion and depth—she announced at the beginning that she intended to talk the whole way. 
But not only that- She was TLaC aligned.  Our boat was full of folks from various nations including a batch of Russians who for whatever reason seemed kind of take it or leave it on her narration and whether they were just going to keep gabbing away talking over her. She uncorked a couple of self-interrupts on them that would have made any teacher blush with pride.  Then she offered a little "purpose over power" 100% correction.  "If you're talking during the narration it means the others near you may not be able to hear what I am saying. So please be considerate." When she asked us to look to the left, she was insistent upon the point—if some failed to comply she went all What to Do on the group… "No, to the left.  The left please.  You'll see the aviary when you are. Thank you." 
Sounds pretty tough for a canal boat ride but it was wonderful because she paid us back with content- rich history of canals in industrial era England.  What it was like to live on a narrow boat.  She pointed out the rope marks worn in the bridge abutments by the ropes the horses pulled.  It was neat to feel the reward of being in a classroom where the content was real and rich and the lesson well planned and where the teacher reset people's behavioral expectations too.
Too bad you can't get that at every venue…. Or choose your venue by tour guide.