10.10.13

The Paradox of Structure as Demonstrated by Sam DeLuke and Meghan Hurley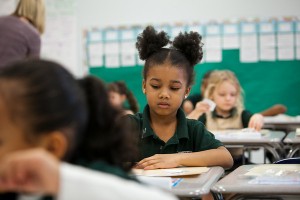 Wish everyone could have seen Sam DeLuke and Meghan Hurley's second grade classroom at Uncommon's Troy Prep yesterday.  Sam was in one corner reading a chapter book with four kids who were discussing rigorously and citing evidence. They used Habits of Discussion to talk to each other in mature ways about the text.  "I think you missed one piece of evidence Zariah." "I agree with David's point and want to develop it."
Meghan was on the other side of the room reading about ants and doing vocabulary with 10 kids- energy, enthusiasm and hard work.
In the middle five kids were reading a book on their own and six were working industriously and independently, writing a paragraph about the theme of a story they read yesterday.
Every kid completely engaged and on task; tons of autonomy and student cognition.  And what made it possible:  Systems and routines and clear behavioral expectations.  Sam said "go" and ten kids got up and walked over to work with Meghan pin-drop silent and quick as a flash. Later she looked across the room, re-directed one child with a non-verbal signal and asked another to distribute books to his peers without interrupting instruction for a second.
That's the paradox, right?  Structure and clear expectations and practice in doing mundane things the right way aren't tools to  constrain students as some skeptics try to maintain but to give them real freedom and autonomy.
Five minutes in that classroom would have convinced anybody of that.