04.28.20

Get Ready for our Expanded Reading Reconsidered Curriculum Pilot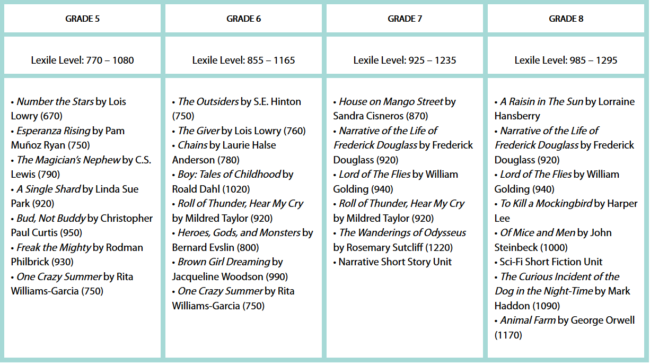 Teachers and school leaders in need of a bit of good news take note: We are excited to preview details of our Expanded Reading Reconsidered Curriculum Pilot for the 2020-21 school year, which will officially be available on May 4.
Background: Two and a half years ago, with great enthusiasm (and a bit of trepidation), we set out to build a knowledge-driven, writing intensive ELA curriculum based on great books for students in grades 5-8. We mapped out some of our favorite books and got started on our daily lesson plans with embedded nonfiction, close reading and three types of writing– not to mention knowledge organizers and lots of vocabulary.
By the beginning of this school year we were ready to begin sharing our first batch of units, and approximately 100 schools asked to try them out. We offered them the materials at minimal cost and they shared feedback to help us improve what we'd developed. The first-year proved to be a great success—we piloted with district schools, charter schools and private schools in rural urban and suburban communities, in at least 25 states not to mention England.
The feedback we received was overwhelmingly positive, we were happy and relieved to find.
"Students LOVED both the knowledge organizer and the vocabulary/active practice. The consistent format of vocabulary provided students a helpful way into the words and allowed students to engage with the words in an authentic way. The active practice pushed students to engage with the words in more challenging ways that made them really sticky."
"The clarity of the plans and accompanying student facing materials make this highly teachable."
"We love and appreciate the rich texts and corresponding student-facing materials. Additionally, we love the amount of embedded texts and Knowledge Organizers!"
"We are nearing the end of our first novel and we have loved how organized and succinct the teacher plans are. This first novel was implemented flawlessly because of the way the plans are organized."
"My favorite element of Reading Reconsidered Curriculum are the supplemental texts that are incorporated in the curriculum. The background information for Number the Stars that students acquired through the perfectly placed supplemental texts made a huge difference in their ability to connect with the book. The references to the literary elements utilized and the historical contexts were extremely powerful and allowed scholars expand their understanding of what they were reading."
But we were equally excited to have learned even more from the feedback and videos pilot schools sent to us. Here are two (of several) posts of our all-star curriculum pilot teachers in action:
Christine Torres Crushes the Habits of Discussion
Emily DiMatteo Builds Knowledge Through Embedded Nonfiction
Here you can see multiple pilot teachers demonstrating one of our favorite approaches to reading—Read Aloud:
As we revised and upgraded our units based on feedback from the pilot program, we also continued to develop new content.
As we plan to renew and extend our pilot for the 2020-21 school year, we now have twenty-seven novel units available for schools to choose from. (You can see our book list in its entirety, see our website: http://teachlikeachampion.org/reading-reconsidered-curriculum/.)
Some of our newest titles for the 20-21 academic year include:

With every curriculum unit, schools receive:
Teacher and Student Facing Materials:
Daily Student Packets and Corresponding Teacher Lesson Plans
Standards Aligned Unit Plans
Mid-Unit and End-of-Unit Assessments
Essay Prompts and Supplementary Lesson Materials
Knowledge Organizers
Vocabulary Word Wall Images


Foundational Implementation Documents
Curriculum Users' Guide: A comprehensive guide to support implementation of the curriculum and the academic systems it relies upon
Lesson Preparation Guidance
Approach to Standards and Objectives
Remote Unboxing Session: A one-hour session in which our team provides guidance and insight about the curriculum materials with particular focus on the daily lesson materials.
In this second year of the pilot we're also adding to the support opportunities that we offer to participating schools in addition to the curriculum materials described above. We've created a new Digital Platform Subscription and expanded our menu of Professional Development opportunities.
Want to learn more?