04.24.17

Better Discussions: A Preview of My Interview with Norman Eng on Teaching College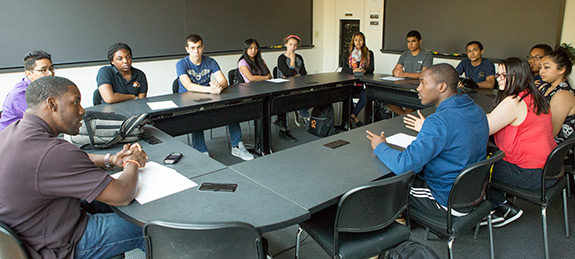 I receive a fair number of questions and comments from teachers at the college level. No surprise, really. Teaching at a collegiate or university setting is different, obviously, so of course not every idea from K-12 teaching would apply, but then again teaching is teaching–which is to say, challenging–and one of the themes I hear from teachers in college & university settings is: "I realize am a teacher but I don't really know much about how to teach." Another is: "I assumed all of the kids would be engaged, motivated and prepared, but that's not the case. What do I do?" And sometimes from someone in administration: "We are an organization of teachers but we don't really know how to help people get better at teaching." Or even–from someone at a medical school– 'Teaching is life and death for us. We just have to be better at it."
So it was with interest that I recently came across a book called Teaching College. It's by Norman Eng. It attempts to address these issues head-on.  Norman has a doctorate in education and has been a university lecturer as well as an elementary school teacher. He has also worked in marketing and advertising.  He uses this unique set of experience to reflect on the challenges of collegiate teaching in his book.
Norman and I spoke recently and he agreed to do a interview on this blog to help respond to the need for teaching guidance at the collegiate level.  The full interview will appear on Wednesday but I am going to share a preview today, with Norman's really useful thoughts on fostering better discussions.  I think it's useful for every teacher at the college/university level and also for many, many teachers at the K-12 level.
DL: Poorly run discussions can often be as brutal as poorly run lectures. What advice can you give collegiate teachers to increase the quality of discussions in their classrooms?
NE: You're absolutely right about discussions. I've sat in classrooms where students take the lead and the teacher just sits back and listen. We know what happens. A small fraction of students dominate. Conversations get sidetracked. Students ramble. And the experience becomes a waste of time. Students hate that. 
What do I do? First, I post discussion questions on the board. That visible reminder keeps both students and teachers on track. Second, I keep prompts focused and discussions short. One thread should last no more than 10 minutes—unless there are clear signs of interest (e.g., students clamoring to participate). 
Having students write before and/or after discussions, as TLaC advises, is also a great idea. Doing this prepares them to talk. Writing also puts the focus on developing ideas rather than merely performance (which can trigger anxiety and competition). So in some classes, I pose questions on the board and ask students to spend the first 5-10 minutes jotting down ideas. Participation rates increase.
Also, students don't always see the point of discussions, so I devote time to address this early on in the term. This involves asking students questions like, "What is considered a good or bad discussion?" or "What is the point of having discussions?" Follow-up lessons help them differentiate facts, opinions (e.g., does everyone have a right to an opinion?), beliefs, biases, preferences, and assumptions. We talk about the pros and cons of each within the context of a discussion. We even delve into specifics, like how to listen more effectively (hint: respond to peers' comments first, by expanding, connecting, agreeing/disagreeing, etc.). When students internalize the importance of discussions, they will engage with more effort. 
Perhaps the most productive thing to improve the quality of class discussions is to focus less on the performance aspect and more on developing discussion skills. Most students have never been taught how to discuss, so the ones who succeed are the naturally loquacious or extroverted student. And then it becomes about individual contribution rather than a collective endeavor. When that happens, students are less liable to build upon, expand, contradict, take issue with, or otherwise respond to a previous comment. It becomes a series of isolated contributions.
Sociologist Jocelyn Hollander has some great ideas to develop discussion skills, summarized as follows:
First, she asks students to write a self-evaluation about their perceived strengths/weaknesses at the beginning of the term. This includes setting a specific discussion goal for the term—one that is concrete, practically attainable, and unique to the individual. During midterms, she asks students to evaluate their progress: What is going well? What could be improved? What progress have you made toward your discussion goal? Finally, students evaluate their growth at end of term. They write about what if any changes in their discussion skills they have noted over the course of the term. 
Focusing on strategies that teachers can do is a start, but increasing the quality of discussions is a partnership. How can we balance the responsibility between teacher and students? That's the challenge.
If you're intrigued, stay tuned. On Wednesday, I'm going to post the full interview with Norman.