01.22.14

The 2.0 of 100% Plus Some Great Video of Jamie Smith (Video)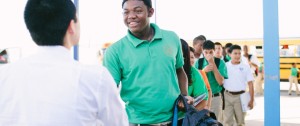 I write a lot of emails entitled "Two Quick Things."  Scrolling back through my sent mail it seems that one quick thing is almost entirely unlikely to get me to write to anyone and three quick things is apparently cause for procrastination.  But TWO quick things: that is the email-generating sweet spot for me.
And the BLOG generating sweet spot!  Because I have Two Quick Things to share about the 100% technique.
The First Thing: 100% re-design:  I am hereby going public. In the new, 2.0 version of TLAC 100% is going to be split up into four different techniques.  I'm doing this to address the incredible rate at which I've accumulated new knowledge about how great teachers win their classrooms and the incredible usefulness and specificity of what I've learned.  When it became impossible to do a 100% training in a full day, I knew I had to act.
So the wisdom of the original 100% will be divided amongst its sons and daughters. Specifically:
100% Part 1: Visible Compliance–In this technique I talk about how to "see" your classroom better by standing in certain places and training yourself to scan in certain ways so you know what's going on reliably.  I call this Radar.  I think I speak the truth when I say that the struggles of many teachers with off-task behavior start with not seeing it. I also talk here about BSL or "Be Seen Looking," the process of subtly making visible to your students the fact that you are looking to see if they do what you expect and that you care.  One of the most common reasons students don't do what we ask is, it turns out, that we don't watch to see if they do.  The last section here is about giving visible directions–things you can see whether students have done–to assist you in holding them accountable.
100% Part 2: Firm Calm Finesse–Here I talk about remaining poised under pressure and causing compliance by intimating that you can't actually imagine a universe in which students wouldn't comply.  And about how it's better to catch it early with a small fix than wait and hope it will get better (hint: probably not) only to have to get angry later on. There's more here too, such as stressing "purpose over power": We need to do this so we can learn versus you need to do it because I am the king of room 317.
100% Part 3: Least Invasive Intervention–Should look pretty familiar from version 1- How to fix it with the least possible disruption to instruction so that 1) You spend your time teaching and 2) You avoid the 'death spiral,' a clever term for an age-old phenomenon that you can find out more about when you get your mitts on 2.0
100%.4: Art of the Consequence–Brand new and useful- how to give a consequence so that it helps 1) you eliminate a problem instead of making it worse, and 2) students learn from and reflect on their non-constructive moments.
The Second Thing: Great High School 100% video from Carver Prep's Jamie Smith

Useful video always helps.  Especially when it's of high school and behavior, which some people think are mutually exclusive terms.  Au contraire. Check out this video of Jamie Smith, who teaches at Carver Prep, way down New Orleans-way.
You may notice:
That, at 8:39 on the on-screen timer, she makes a great non-verbal intervention to ask a student to sit up. And she does it early, before he's really off task, so she can be quick and cap with a warm, firm calm finesse smile.
That at 8:47 she scans the room intentionally to make sure everyone is as the should be.  That is disciplined looking.  Tiny tiny pause so they see her scan and just before the scan you see her go to tiptoes and look at the far corner of the room. Again she is messaging, very subtly and at no cost to instruction: "I am looking."  But she's also smiling.
That, thanks to her scan, she in fact sees one student not doing as she'd asked.  She addresses with an anonymous individual correction: "I still have one person writing" and a simple warm non-verbal gesture.  No accusation, no assumption of ill intent, just a little fix, early on in a way that preserves his privacy… or at least shows a desire to. Oh, and she assumes he'll follow her direction. I mean of course she's looking to see, but by barely looking, she shows that the last thing on her mind at this point is that he might not comply.
"You're kidding," her demeanor says.  "Sometimes students don't do as you've asked?"  But of course she trusts and verifies. Note the scan, again, at 9:02.
Way to go Jamie and thanks for letting is tape your class!