08.27.18

Sadie McCleary's Guide to Making and Using Knowledge Organizers
Sadie McCleary, Chemistry Teacher extraordinaire and Science Department Lead at Uncommon Collegiate Charter High School, is a good friend of Team TLAC. She's a TLAC Fellow and constantly keeps in touch to share ideas she's adapting and developing. And she has a special interest in Knowledge Organizers. This year she's been trying to support other teachers in designing and implementing them effectively.  She put together a quick guide that we (i.e. Team TLAC) think is pretty tremendous.
The first section shows an annotated model of a Knowledge Organizer for a Chemistry class with some great clarifying comments. We especially love this point:
The vocabulary / key concepts are the foundational terms students should know in order to increase the rigor of the questioning possible by the teacher and increase the quality of student responses. Note that these are not the only terms/concepts students will learn this unit! They will continue to build on these and complicate their ideas. These are simply a starting place.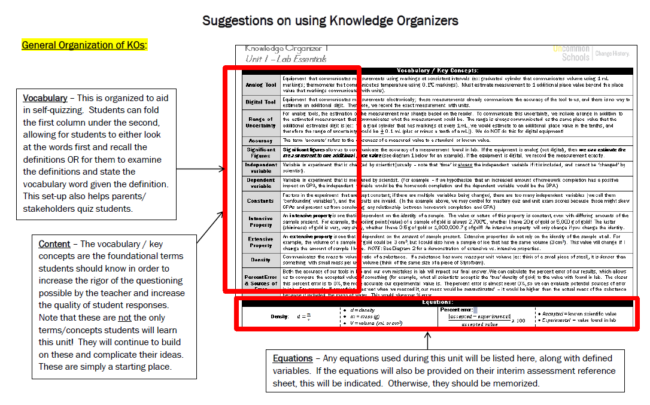 The second section shows how to use diagrams. This guidance is probably more specific to the sciences (we might be inclined to keep KOs to one page otherwise) but we love her point about annotating.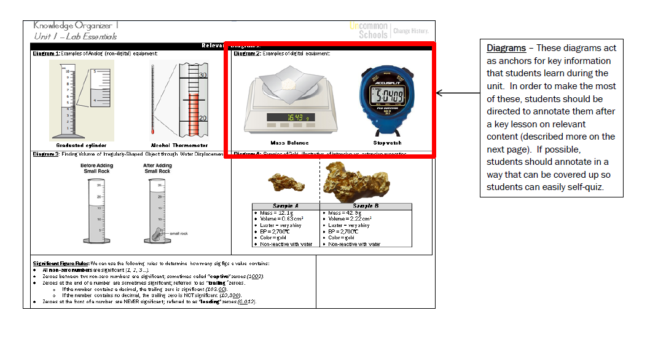 The third section is our favorite–it focuses on how to use the Knowledge Organizer during class.  There's a lot of gold here but Sadie's observations about teaching students to use them–and therefore how to study–is especially powerful:
Teach students to use it: Studying is a skill! Just like with other skills in class, we need to teach students how to do it. This means studying (even simple vocabulary drills) needs to be modeled and students need at-bats.
• Self-quizzing: Take 2 minutes several times in Unit 1 to explicitly show students how to fold their KO to hide the definitions and 'self-quiz.' The best way to do this might be conducting a Think Aloud – read out the vocabulary word and begin narrating your own thinking. Example – 'Analog measurement – I know there are two types of measurements, and the second is digital. This means analog is non-digital, and I know there are special rules for these because the accuracy of analog measurements is not communicated.' Follow this up with several minutes of students doing their own silent self-quizzing and an oral drill or recall quiz.
• Partner quizzing: Provide opportunities for students to quiz one another for 1 – 3 minutes in class. Explicitly name for students that this should be replicated at home with a family member or friend. Model partner quizzing for students, and set clear times for when partners should switch who is quizzing whom. If time allows, follow up partner quizzing with an oral drill or recall quiz.
All in all it's an amazing piece of work. Our thanks to Sadie for sharing it with us and therefore with you. Hope it's useful!