01.02.18

The Nanango Nine and Other Insights About Training From Australia
Just before the winter break we had a visit here at TLAC Towers from our old friend Jillian Robinson– she's head of teaching and learning at Nanango State School in Queensland, Australia and has been a long time user of Teach Like a Champion. She and her school have been recognized several times for their impressive student achievement results.
Typically, Jillian arrived here (having flown 30-some hours) bearing gifts.
The most important was this "place mat" Teach Like a Champion 2.0 Placemat with the Nanango Nine:  It's a beautiful one pager that helps teachers remember and organize the Teach like a Champion techniques, generally, via pithy descriptions suitable for desk drawer or bulletin board.
The "place mat" also highlights the "Nanango Nine"… the nine techniques that the school decided as a group were most critical to focus on and that all teachers were going to do together.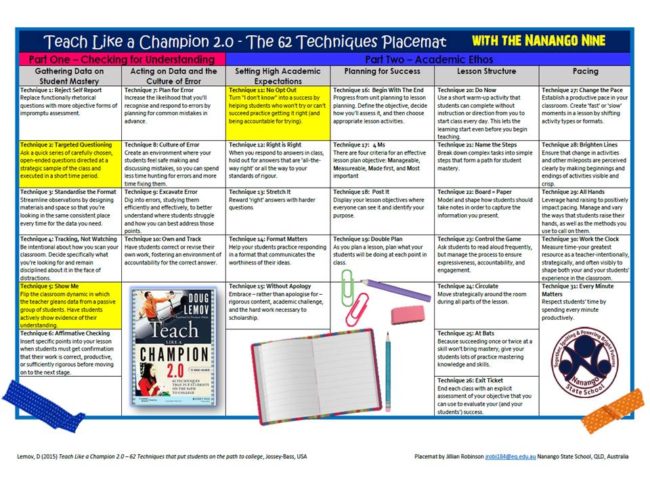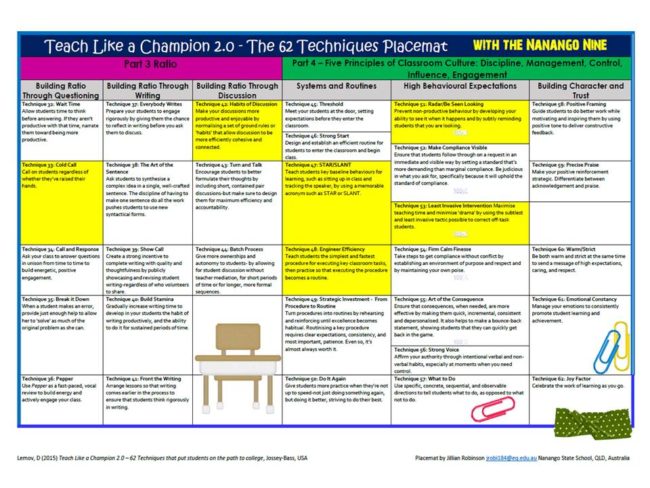 In other words, it's not just a pleasant and useful document- it's spot-on thinking about how to achieve results – it frames some theme and variation, to quote a recent post– First, "Here's a reminder of the things you can use and adapt as you see fit to make it easier to do them"; second, "Here's a reminder of the things we all do that are priorities for our shared culture."
But of course the real gifts were Jillian's insights about training teachers w the Nanango Nine.
Here are a few things she said that I thought were solid gold for those of us who do professional development for teachers:
"In 2014 [when we first started using TLAC] it was the buzz but now it's about sustaining focus.  It was important to identify a few key things that we were about as a school and to keep training on them. Our staff often change so we have to keep training and re-training on a core set of ideas that are 'ours."
"But focus has taught us that once you think you're done training on a technique you're not done. We keep revisiting Cold Call for example. We don't apologize to teachers that we're doing Cold Call again because what we want is deep mastery and each time we do it even the experienced teachers learn more. Maye they learn the most.  And that reminds us something about the depth of the things we are trying to master as teachers. They're not simple. They require study."
Thanks, and safe travels, to Jillian and best wishes to her team at Nanango State School.
[Update 1.3.18: This post has been hugely popular and several people have asked for downloadable versions.  Here's a PDF of the document Jillian sent me.  Please be sure to thank her. 🙂    Teach Like a Champion 2.0 Placemat with the Nanango Nine]