03.26.15

Meet Tom Bennett; Attend researchED (or vice versa)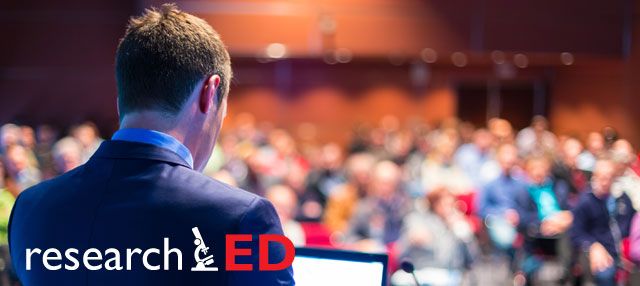 Tom Bennett is a high school teacher in London, the writer of four teacher training books, a columnist for the TES Magazine, a long-list nominee for the 2015 Global Teacher Prize and a member of the expert group reviewing Initial Teacher Training (ITT) for the UK Government.
He writes brilliant stuff like this recent piece on group work, which examines the research that (spoiler: allegedly) supports the practice and then examines it's strengths and limitations. He notes that he uses group work himself and then gets down to brass tacks like someone who works everyday int he classroom- when and why would you use it? with what cautions and how can you address them?   You know: just another balanced, pragmatic, sensible, informative instantly useful piece for teachers, the kind you see every day.  With useful pieces like that popping up from him regularly, really the only reason not to like him is that he's both trenchant and funny at the same time.
Anyway if you've read Tom's stuff and thought, like me, "More like that for teachers, please!"  you're in luck.  He's coming to America.  As founder of researchED, an organization that's about bringing research to teachers in useful ways, he's gone global and is running a conference that I highly recommend.
I asked him to write a guest post about the conference and he sent this description:
researchED New York- a new kind of conference where teachers take the lead
By Tom Bennett
On May the 2nd 2015 at a school in the Bronx, a very special conference is taking place. researchED has taken off like a rocket since it was started in 2013 in the UK; in February we held our first international conference in Sydney Australia, and we continue that theme with our first US event which I'm proud to say is in New York, one of the greatest cities I've ever visited.
What is researchED? It's a teacher-led, grass roots wiki movement that I started in response to my frustration that teachers and schools are often crushed with initiatives and interventions that claim to be 'proven by research' but frequently aren't. I'm a teacher in a state school in London, and it started to annoy me that the teaching communities and the research communities were often very far apart. We had very little ability to know when we were being sold snake oil or not, which is a terrible thing when it comes to something as valuable as children's education.
Speakers include:
Pearl Rock Kane, Columbia University
Professor Daniel Willingham, University of Virgina
Valerie Lewis, Head Teacher, NY
Angela Logan Smith, Principal, Goldie Maple Academy
Benedict Carey, The New York Times
Denise Galluci, GEMS Education New York
What do we do? We bring together educators, researchers, academics, policy makers, charities and private sector bodies into powerful face-to-face situations. At researchED conferences you can hear respected academics like Professor Daniel Willingham give key note addresses about how the brain learns. Next door you might hear brilliant teachers like Carl Hendricks from the UK talk about how his school engages with research. Next to that you might find Benedict Carey from the New York Times talking about research writing in the media.
More speakers:
Daisy Christodoulou, Research Coordinator, ARK Schools
David Weston, Director of the Teacher Development Trust, UK
Dr John Mighton, JUMP Maths
Ann Mroz, Editor of the TES, UK and International editions
Dr Christina Hinton, Harvard University
Lucy Crehan, Teacher and Education Explorer
Glenn Whitman, Director, The Center for Transformative Teaching and Learning
We run on the following principles:
Teachers' voices are important (you think this would be obvious, but it's been revolutionary in the UK)
Conferences are always on Saturdays. How else do teachers get time off for training THEY want?
Prices are kept super low. We're a non-profit enterprise that aims to be cost neutral. Speakers give their time for free, venues meet most of the host cost, and we rely on volunteers and kindness as much as we can. That way, anyone can come- I'm tired of training days costing $$$ and I bet you are too.
The research communities (generators, intermediaries, users) need to be talking more, so that research can pay attention to what teachers say, and what they need, and teachers can become more research literate.
More speakers…
Steven Hodas, Education Entrepeneur
Anna Riggall, the CfBT
Mary Whitehouse, University of York
Carl Hendrick, research lead, Wellington College, UK
Dr Gary Jones, Education consultant and researcher
Lauren Schiller, Harvard Graduate School of Education
Catherine Glennon, Harvard Graduate School of Education
I've been amazed by how successful these have been. In the UK we started off with 500 people at our first event- by the next year we sold out in a month, with nearly 1000 people, and hundreds more on the waiting list. It's an idea that's found its time: teachers can be the drivers of their own profession. We don't need to wait to be told what to do by an ancient top-down hierarchy; we can find out for ourselves. Social media has catalysed this whole thing, and made it possible for many thousands of teachers who thought they were alone, to come together in an exciting new community of self-development and empowerment.
That's what researchED conferences are about, and that's what we're doing at Riverdale Country School on Saturday May the 2nd 2015, 9-5. We've got an astonishing list of brilliant speakers from the US, and some I've brought over from the UK too, to share their experiences of education and research. Tickets are all affordable, with discounts for bulk. And if you still have problems financing it, drop me an email and we'll see what we can do. This isn't about profit- it's about helping the profession help itself.
Hope to see you there 🙂
Tom Bennett
Teacher and Director of researchED