12.08.21

"In Chronological Order": Neha Marvania's Retrieval Practice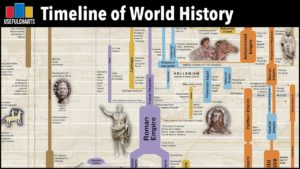 If you've read TLAC 3.0 you know we're big on knowledge organizers and retrieval practice over at TLAC Towers, so it was with great excitement that members of our team met up with Art Worrell, Uncommon Schools' Director of 5-12 History, this week to look at footage of how history teachers were using and applying retrieval practice.
The work Art and his colleagues have done blew us away with its richness, variety, depth and intentionality. I'm going to share a few examples. The first of which–today–comes from Neha Marvania's 6th grade classroom at North Star Academy Vailsburg Middle School in Newark.
I love the application of retrieval practice she's using here: putting key events in chronological order.
I've heard History teachers occasionally dismiss dates and chronologies as trivial and lower order but, as you can hear in the video, it's anything but. "You have to use chronological order to show how [and idea] led to something else," one scholar reminds us in the video. And doing that causes some pretty rich conversations: How Locke's Theory of Natural Rights inspired the American Revolution, which spread to Haiti, which inspired Simon Bolivar and so moved to Latin America. So we get the recall and the application.
I asked Art for a few of his observations about the video and some of the things he'd want teachers he works with to notice about it.  He shared these observations:
Neha clearly assigns roles and reviews the task so students are clear on what they are doing and why. This roll out doesn't need to happen every time, but it is extremely important the first few times that students complete this activity
Throughout the exercise, Neha clearly connects the task to the historical thinking skill (causation and chronological reasoning), making it clear why students are doing this task and how it connects to their daily historical thinking. Students are able to articulate the purpose behind and the value of this knowledge retrieval activity
Neha circulates and responds to data.  She affirms the correct answer for round 1, but has students revise using their Knowledge Organizers when they didn't "get it" in Round 2. Knowledge organizers are leveraged as tools to keep the rigor high and the think ratio tipped towards the students.
There is just SO much joy! Students are doing rigorous thinking, but they are also enjoying the sense of challenge embedded in the activity. Neha does a fantastic job of celebrating student thinking and the room has a culture of collaborative sense making.
I agree with all of Art's observations and would add that it's a great example of something Daniel Willingham describes about effective retrieval practice in this interview (https://www.aft.org/periodical/american-educator/spring-2004/ask-cognitive-scientist-practice-makes-perfect)
Effective retrieval practice Willingham notes, begins with studying for the purpose of directly learning a body of knowledge but progresses over time to "take the form of using old material in the course of studying some new material. For example, students will initially study the terms isthmus and delta to master their meanings, and will later practice these meanings as they use the terms in their continued study of geography...." or students will use their understanding of key events in the development of democracies to build a timeline showing how ideas about natural rights spread and grew.

Here we know that students have already memorized core facts because Neha tells them not to use their Knowledge Organizers. They know what's on them. The activity is about applying as they retrieve and enriching or elaborating on their understanding.
We also get students who are proud of their knowledge and see how it serves them. I sometimes think there's a narrative among teachers that we shouldn't teach and build memory of facts because students will find it boring. But it's anything but here. Suddenly students are armed by their knowledge of facts to construct for themselves a larger narrative about the role of natural rights in political movements across the Western Hemisphere.
And even when they struggle we see constant support for the hard work of memory building from Neha who is supportive and smiling and upbeat.
Thanks to Neha and Art for sharing this great example!