08.12.20

Highlights from Arianna Chopp's Online Reading Lesson
Recently I shared an online lesson template that Darryl Williams developed for schools. The idea was to build a model for what "typical" online lessons looked like and that included a balance of activities to ensure student engagement and focus and a variety of modes of interaction.
We've since updated and simplified it slightly for clarity.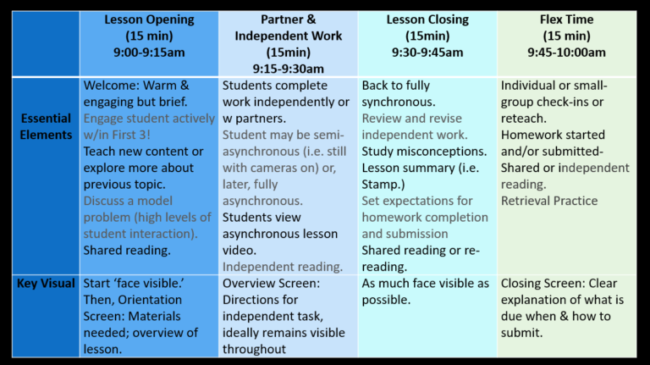 I'd also like to share a great video that I think shows how a teacher uses several of these lesson elements successfully in a single lesson.
The teacher is Arianna Chopp. She teaches 6th grade English at Libertas College Prep in Los Angeles. She's reading Eperanza Rising with her kiddos and you can see her use three of the four parts of the framework here.
Lesson Opening: Students write briefly about the main character, Esperanza, and how she's dynamic. They follow up with a discussion. Then they read a section of the text aloud together. I shared a brief piece of that. Note that Arianna keeps the text visible.
Then students do Independent Work for 3 minutes answering a set of questions in more depth. Some students are able to go on to more advanced 'starred' questions. Cameras stay on so she can help and assist them.
Interestingly, Arianna then jumps to Flex Time from there. She commits a lot of time to it and it's one of the best examples I've seen. Note that:
Some students have earned the right to log off and work on their own here!
Remaining students are split into two groups with a co-teacher so they can get more support and attention on their writing. They work independently and Arianna cycles through and simply reads students' work and gives feedback.
If they are attentive and manage time, they earn a nice break before the next class.
Arianna does such a great job of balancing the types of learning students do and the ways they interact while making sure everyone is focused, involved, and engaged. And she does an incredible job of differentiating for her students in terms of the support and autonomy they get. Great stuff!!
If you would like to learn more about the curriculum Arianna is using, visit https://teachlikeachampion.org/reading-reconsidered-curriculum.