09.14.13

Struggles for Shared Vocabulary–What I Have in Common with Paolo Di Canio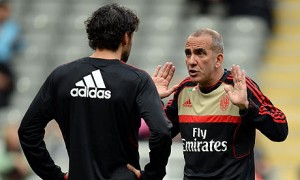 At our workshops we often talk about the importance of shared vocabulary–the power of being able to communicate accurately, quickly, without ambiguity about technical aspects of performance. This is true whether you are a teacher ("That was great but what if you unbundled your questions a little more and added a "Stretch It") or a principal; a player or a coach. I learned this playing soccer where a key aspect of teamwork is being able to communicate in a reliable way what you want your teammates or players to do.  If you say "get to the middle" it's a problem if your players aren't clear on whether that means halfway between the sidelines or halfway between the end lines.
My colleague Dan Cotton and I are coaching our five year olds' soccer team this season—we're the "Blue Fire," since you asked—and Dan has masterminded the idea of linking specific vocabulary to our drills. For example coaches say to kids all the time "clear it" but it's easy to underestimate how unclear it might be to a five year old what we mean by this.  So Dan is trying to link phrases to drills.  This week were are working on "Catch 'em."  If you're familiar with five year old soccer you are probably aware than when a player on the opposition makes a break for goal, many of the players don't know what to do on defense.
A coach might shout "catch 'em" and they catch em… only to run alongside them without kicking the ball away as the ball handler continues on to goal.  Or they run right past the opposing player all the way back to the goal… where the dribbler soon arrives and scores.  Or, as my daughter sometimes does, they might run just fast enough not to catch the opposing player specifically because they don't know what they'd do if they did catch them.  So this week we're going to practice catching up, stepping in front, kicking or dribbling the ball off to the side. And—the kicker–then add, "That's 'catching 'em.'  When you hear "Catch 'Em" that's what you're supposed to do." And each time we practice it, Dan proposes, we'll send the dribbler off and say "Catch 'em" as the prompt to the pursuing defender to begin-thus make the connection clear and supporting with repetition sufficient for a five-year-old.  Now all of a sudden we'll have some shared vocabulary.
I'll try to keep you posted on how it goes.  Meanwhile I thought of our Blue Fire superstars when I read this excerpt in the Guardian's coverage of Sunderland manager Paolo Di Canio's struggle to establish shared vocabulary with his new players.
http://www.theguardian.com/football/2013/sep/13/paolo-di-canio-sunderland-language-problems
"Di Canio delights in planning detailed training sessions and discussing tactical intricacies but Sunderland's manager currently finds himself reduced to teaching his players basic vocabulary. After the arrival of 14 signings this summer, 13 of them foreign, fluency in English has become a precious commodity at the Stadium of Light.
"It's driving me crazy," said Di Canio, whose side's haul of one point from three Premier League games is largely attributable to defensive howlers prompted by poor communication, undermining some pleasing overall play.
"Every single training session I spend five minutes on this [vocabulary]," he acknowledged. "Every session you can see that everything is going OK, then when we practise something, there's a misunderstanding. A British player says: 'You squeeze up,' and the French player or the Italian can't understand. I stop the session. I tell them to learn five key words that are for the back four– squeeze up, cover, drop, hold. If they say a key word in a foreign language I stop.
"You have to fight with these things every day. But squeeze is difficult. 'Forget squeeze,' I say. 'Just use 'up'. Don't use squeeze, it's difficult, up is enough. I have had training sessions for two months, still I see players getting confused."
Anyway, I found it amusing and smart that a manager in the Prem has found himself down at the level of establishing shared vocabulary.  Paolo, call me and I'll give you my "Catch 'em" notes.