01.02.13

Teachers at Work (video)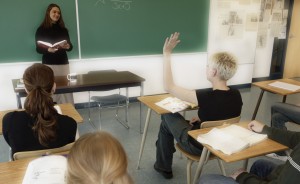 Thought I'd share this footage of some super high-quality practice by teachers.  The teachers hard at work in this video are at one of our recent workshops and include Jennifer Wong-Den, Co-principal at Leadership Prep Brownsville, who's practicing her Cold Calls and Jessica Hayes, Dean at Excellence CS for Boys, working as the coach.  The idea is for Jen (and eventually everyone else in the group) to practice executing cold calls by pretending her peers are a class and asking them questions about cold calling.
Some thoughts on what makes the practice so effective:
1)      Jen gets right into character. She's preparing herself to do this with her students by pretending that she's in front of a real class.
2)      Notice how positive she makes her cold calling—she starts with a little roll out speech describing how getting cold called is their chance to show their knowledge off and then has students praise Richard—the first cold called student—after he succeeds: "Say, 'You got it!'"  So simple but so powerful.  The tone of any teaching method is entirely within the control of a great teacher—and Jen makes the rigor of cold calling more appealing by making it positive… not just in her actions but socializing students to be positive with each other
3)      Jen also loses her train of thought for about half a second. That's normal and natural in practice.  But notice how she steps right back into character without missing a beat and gets back to work.  Go Jen!
4)      Jen also keeps slogging away when she gets the name of a teammate wrong, calling David "Brian"—they'd just met each other that day.  She smiles, laughs and gets back to work. Of course that kind of thing happens. But instead of using it as a reason to stop practicing she makes it a "no big deal" kind of thing, showing, ironically, how confident she is.
5)      Jess Hayes' feedback is also great.  Warm positive and specific on her glows; clear and direct on the "grows."  I especially like the phrase, "one thing I'd like to hear you doing is some follow-on…"
6)      Then notice that Jen takes the feedback, applies it (without discussing) and uses a follow on in her first question after re-starting.
7)      Finally what's super coolest is that Jen is an administrator. She's not afraid to hone her skills in front of teachers and knows that knowing the details of teaching will help her make her teachers better.
What do you notice???