12.10.15

Wait Time Insights from our Workshop Participants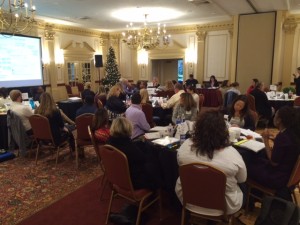 We're up in Albany this morning studying Engaging Academics with folks from around the country. Our first topic is Wait Time and as with any workshop we've learned a ton from our participants. Here are some of their observations:
Naomi Ali of Syracuse City School District noted, in observing in one video students slowly and thoughtfully raising their hands during 8 or 10 seconds of Wait Time, "She [the teacher] gave them time to gradually raise their hands, to formulate a response. Maybe one they didn't have right away. She didn't rush them to raise their hands."
Jacqueline Goettel-Strecansky, also of Syracuse City School District noted how important it was to think about who to call on after a longer stretch of Wait Time (8-10 seconds say) in which some students who at first had not raised their hands, began to do so. Should you call on a student who wasn't sure at first and then raised her hand? Who took her time? If so how often? We don't know the answer but we're sure the question is important.
Next Samantha Pugh, the principal of the Charter School for Law and Social Justice, observed how important it was to a school's work in shaping positive culture among students to socialize them to think and then speak.
John Feagin, a new teacher from Lake Wales School District in Lake Wales FL noted the importance of planning specific questions in your lesson plan that would be most responsive to Wait Time.
Finally, in watching a video of Rue Ratray, Marti Hill of Camden City School District observed that the pace and tone a teacher used in asking a question indicated to students how deeply they should think about it. "He's like the drummer," she said. "The drummer sets the pace. The pace of his words show the kids how slow or how fast to respond."
Just a few of the amazing observations from our workshop this morning.