03.30.13

Standardized Tests: Necessary but not Sufficient…but also Highly Correlated to College Success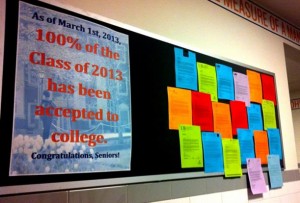 One thing you'll hear about standardized tests is that they don't really measure the things students need to do to succeed in college. That may be true. As a school administrator I always wanted to message to staff and students and others that high scores were necessary but not sufficient: necessary in that almost no one who is prepared for college cannot pass them; not sufficient in that of course our students must reach higher and do more with more demanding content. BUT, but, but…. the data is also pretty clear that standardized tests correlate well to success in college. From a data point of view they are a strong predictor of whether students will succeed in college. Doesn't mean the tests shouldn't be better, more rigorous, include more writing; it doesn't mean there's not a lot to the story of the data–complexity and noise and insight all mixed up in a stew. But they matter, whether you want them to or not, because they tell us things that can make sure we keep our promises to our students.
I offer that observation on a very exciting week, when Uncommon High School announced that 100% of its seniors have been accepted to college. I wish I could say that they will all graduate. I know I can say that we are serious about boosting their graduation rate so it looks like the rates of students born to privilege. But I also know that the data that suggests that they will thrive–their Regents scores, their SAT scores, their AP scores as well as their grades and essays and personal grit and integrity–is real. I am optimistic for them. And today I wish them godspeed.