04.07.13

A Principal Asks: What About the Buses?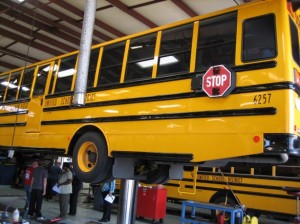 Dianna Reagan is the principal of one of the schools in the town where I live.  She's data-driven, self-critical, focused on student achievement, and not afraid to take an unpopular stance if it will make her school better.  She's pretty much the person you want running your child's school.  Dianna sent me a thought provoking email the other day. She was responding to my recent post on bathrooms and wrote to say it struck a chord. She was off to assess the dynamics of the bathrooms in her school. A few minutes later she wrote back with an intriguing question—she was wondering if (and how) the logic of re-engineering the bathrooms because they are a culture's weakest link could apply to the only thing that gives them a run for their money: the bus. 
As any administrator knows, managing bus behavior poses a set of unique logistical and cultural challenges that make it roughly the equivalent, in degree of difficulty, as staging the London Olympics. 
Some of the challenges:
The buses are almost always managed by people who are outside of the school's chain of command and/or managerial control.   The bus drivers work for the bus depot. Or for the private contractor who's replaced the bus depot. Or, if you're a charter school, for the contractor that's replaced the depot in the district where you operate but that provides transportation.  In most cases that means you can't manage, train or select the people  nor design or influence dynamics such as rules or physical space.
Buses are manned by drivers who are selected for their driving not for their ability to manage kids– never mind kids behaving poorly. In the rear view mirror.  While one is making a left in heavy traffic.  And of course bus drivers get almost no training in managing large groups of kids placed behind their backs.  And let's be honest, in many cases the district (or the contractor) is not exactly knee deep in multiple talented applicants for every position.
As my informal survey of 1) schools my organization runs and 2) kids with the last name Lemov recently revealed,  the culture of the buses is rocky—the kids expect them to be liminal spaces where the 'normal rules' don't apply and behavior is somewhere between edgy and egregious by tradition. Moreover, the management strategies the bus drivers use are as likely to exacerbate as mitigate problem behavior.  (Example: constant threats without follow-though.)
Your management of what happened on the buses is usually based on hearsay and this makes it unreliable, challenging to reinforce even if parents back you and, as a result, inherently time-consuming to manage…. You pull five or six possible witnesses for cross examination to find out what really happened when—and this is my BIG POINT–you should be managing instruction. 
Dianna recently tried to nip bad bus behavior in the bud by going with assigned seats.  A great idea which I know, from the stories that then circulated, earned her the ire of a great many parents with time and energy to demand meetings in an effort to ensure their child's right to untrammeled freedom of seating. 
Dianna also held assemblies and set up incentives to socialize good bus behavior.  I haven't asked her per say but my sense is that the results were perhaps marginally positive.
I want to interject here that as the parent of several bus riders in our district, I am STRONGLY in favor of a principal who tries to set some expectations and add some structure to the bus—only in small part because of the destructive, cruel and anti-social behavior that can transpire on there to the full witness of kindergarteners.  The real reason I am in favor of more control over the buses is that a principal's time—well spent—is the most important resource in the building and I don't think it makes sense for a great instructional leader like Dianna to be spending her morning cross-examining witnesses and accessories to bus crimes when she could be coaching supporting and developing teachers.  My gosh, if assigned seats and even occasional no talking rules make that happen, I am stuffing the ballot box with yea votes.
The problem of course is that the effects of all of a principal's efforts are not always a clear win.  For the reasons discussed above, among others, the buses are a quagmire. 
Anyway, Dianna wondering got me wondering. How do you win with the buses? What do folks do to manage bus behavior and to find out what works?
To boil the pot here are some ideas I've tried or colleagues I know have tried:
Mandated doing of homework on the bus—very hard to do, by the way.
Teachers riding the buses with students for the first three weeks of class to set behavioral expectations
"Bus passes" given to students with drivers instructed to take them away from students who do not behave. (I've tried this personally with students who took city buses in Boston. I went to the bus depot and gave the head of drivers self-addressed stamped envelopes and told him that if any of his city bus drivers ever had a problem with one of our students, he should take his bus pass and mail it to me and I would address with shock and awe.  I never once got a bus pass in the mail. And I am SURE there were students worthy of it.   
Group consequences and rewards for bus behavior….often supported by ocasionally "pulling the video."
Loss of bus privileges–i.e. the right to ride–for those who misbehave more than once—these start small (e.g. one day) and increase thereafter.
In an ideal world I'd wire the bus with sound and video and do books on tape or educational videos (ie science, nature, history…. We could attack the knowledge deficit at the same time.)  The only reason I choose this over mandated reading or homework is that I'd be loath to do to kids what, done to me, would make me car sick.
Ok…. your turn now. What works or doesn't with re-working the buses?