07.28.13

Replacing Self-Report with Targeted Questioning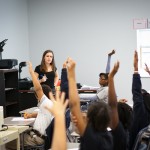 Saw this video on the Teaching Channel this morning describing "fist to five" a system by which students tell you how an activity went by scoring it (fist=it was really hard; 5=it was great). 
I like a lot of the Teaching Channel's stuff and I see a lot of teachers use similar approaches… but increasingly, based on observation of elite teachers, we're inclined to see some limitations to this approach and suggest replacing "fist to five" and similar approaches with something better.
Here's why: Fist to Five is self-report–it relies on people to evaluate themselves–and self-report is notoriously unreliable.  Social science research has demonstrated this over and again.  If, for example, I asked my students how they did at some independent work I gave them, they might give me all fives and say everything's great… but they might be giving me fives because they didn't know that they didn't understand part of it. Their answers might be wrong but their confidence high.  Or perhaps they're a bit savvier and they just wanted to be done with the activity so they gave me fives.  Or they want to please me and they think giving me fives shows that they are good and appreciative kids. Etc, etc, etc,  There are a thousand and one reasons why self-report is unreliable, so if my goal is to truly and accurately understand my students' status after a portion of my lesson it would be better to replace this unreliable source of data with a series of targeted questions, ideally using cold call:
"So, Jason, what was the answer to #2?" or "What was the trick to getting #2 right?" or "Show me, class, on your hands, how many of you found you had to combine like terms in #2?" or "Show me on your hands what coefficient comes before the x in #2?" or "Charles what was you coefficient in #2? and in #3 Sarah?"  or "Check your work with a partner; hand up if you did not get the same answer…" or (for multiple choice) "Show me on your fingers what you got for as an answer to this problem?" or "I'm going to call on four or five of you and I want you to tell  me what adjective you used to describe Charlotte's character," or "I'm going to call on four or five of you and i want to hear your sentence describing Charlotte's primary motivation in this chapter," or "I want to hear some opening sentences…. I'm going to ask a few of you to read. We won't discuss them i'm just trying to get a sense for what you wrote," etc. 
A series of targeted questions like this can be done either verbally or via a "show me" (on your fingers; on a white board; on a note card, etc.) and can be just as fast as a "fist to five" but much more accurate in the data it reveals.