04.22.21

Erica Woolway: Lessons Learned from a Pandemic Year
Part 2: New Learning We Can Use
This is the second in our series of post around the lessons we've learned from remote instruction. In this post we will focus on some of our new learnings – things that hadn't fully considered before spending a year remotely.
We've long talked about the importance of Participation Ratio and Think Ratio – the importance of getting as many of our students to do as deep thinking as possible. But online learning has brought our understanding of this to a new level. One of the continued silver linings of online learning is our ability to get universal responses from all students via the chat, linked sheet, or another technology tool.
The chat function and other similar tools allowed us to make a habit of universal responses to questions. We've got to carry that habit forward and capture that in our questioning practices in classrooms so the goal, frequently, is for everyone to answer. Silent Solo for example, a routine that normalizes everyone writing quickly and informally in response to a prompt is a powerful tool to apply this idea—you'll see it in TLAC 3.0. Turn and Talks, implemented online via breakout rooms, proved to be not only powerful tools for ratio, but also critical in building community at a time when students felt as disconnected from each other as they did from us as the teacher. And perhaps one of the most important tools for online learning was creating a positive culture around Cold Calling – allowing teachers in zoom rooms across the country – to create opportunities for voice equity in their classrooms. Cold Calling ensures that you're not only hearing from the 4-7 students that are most likely to raise their hand, but instead creating classroom cultures of engagement where all students feel their voices matter (and have put the thought into formulating an answer to the question.)
Secondly, remote learning has expanded the possibilities for us when it comes to asynchronous online support materials that will allow students to access materials post-lesson to reteach or reinforce previously taught ideas (something that will be important when we fully return in person next year). In the beginning of the pandemic, we saw teachers like Joshua Humphrey and George Bramley support students in incredible ways with their asynchronous videos.
And while none of us are looking to go back to that time, we could consider how we might be able to change the dynamic of homework through asynchronous tools to support learning and enrichment. Could there be extra asynchronous review and enrichment units? Could we allow students to complete brief asynchronous activities or assessments during class while we conference briefly with some students, assess reading progress or some other individual focused task?  These creative ways of utilizing asynchronous tools will be particularly important as we focus on acceleration next year.
And finally, online learning has given us a fuller understanding of the importance of visuals and the influence of what you see (e.g. charting,) on engagement and participation, with special note  on critical it is to couple clear directions with a visible presentation of the task. Clearly planned directions that are made visible is a form of inclusion. Similarly, we came to realize how much "charting" or tracking key talking points during a discussion, makes it easier for everyone to participate. While this is true for students learning remotely, we now more fully understand how important it is for students when they're in person as well. It turns out there's quite a bit of science to good visuals that we often had the luxury to ignore before the pandemic. But in looking at this clip with the beautiful visual from Jo Toye's history class, attending to how clear and how free of extraneous information it is, how the numbers help guide students eyes to different points so she can ask them specific questions etc. reminds us of the power of thoughtfully designed visuals in supporting student learning in brick and mortar as well.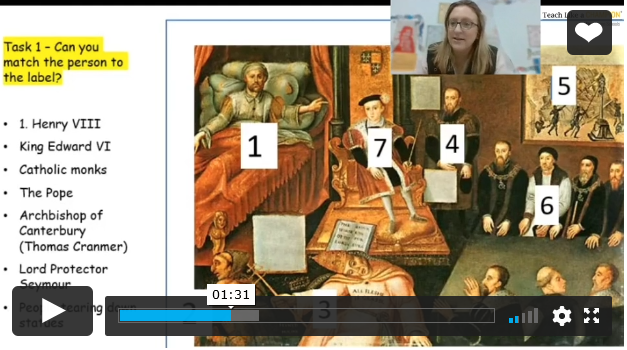 We'd love to hear from you in the comments or via twitter – what are some of your new learnings that you are excited to bring back to the classroom?