04.22.13

Reading Up on Wooden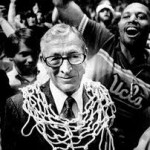 My colleague Joaquin Hernandez has been reading back through some studies on John Wooden's coaching.
Here are four interesting points from Joaquin's notes. The last one is my favorite:
When Correcting, Sandwich the Model (M+, M-, M+): When you spot an error, stop the player and model how to perform the move correctly (M+), show them how they did it (M-), and then model the move correctly once more (M+). Coincidentally, this takes advantage of the "primacy" and "recency" effects in social science.
4-Second Feedback: Deliver feedback in 4 second chunks through live coaching (and 20-second chunks after a drill/practice is over)
Ratio for Top Performers versus Novices: Wooden ascribed to the belief that you should give more consistent praise to the "bench" players and less praise to "starters" because "starters" get positive feedback through many avenues whereas the "bench" players get less.
Precise Constructive Can Be Positive: Wooden delivered constructive feedback to players 75% of the time, usually in the form of live coaching during practice. Through interviews with players, they said they still felt it was positive because it was actionable and Described the Solution. They viewed it as not being personal, but as his way of showing he cares about their growth. Wooden also called this kind of constructive feedback as being "positive" in nature, even though he delivered it without any tonal inflections.