04.03.17

Bloom's Taxonomy—That Pyramid is a Problem
It's hard to find a teacher who doesn't make reference to Bloom's Taxonomy. It's part of the language of teaching. For those who aren't familiar with it here's some background from Vanderbilt's Center for Teaching:
In 1956, Benjamin Bloom … published a framework for categorizing educational goals: Taxonomy of Educational Objectives. Familiarly known as Bloom's Taxonomy, this framework has been applied by generations of K-12 teachers and college instructors in their teaching.
The framework elaborated by Bloom and his collaborators consisted of six major categories: Knowledge, Comprehension, Application, Analysis, Synthesis, and Evaluation. The categories after Knowledge were presented as "skills and abilities," with the understanding that knowledge was the necessary precondition for putting these skills and abilities into practice.
Bloom's Taxonomy is often represented as a pyramid with the understanding—intended or accidental—that teachers should try to get to the top.  That's the nature of pyramids, I guess.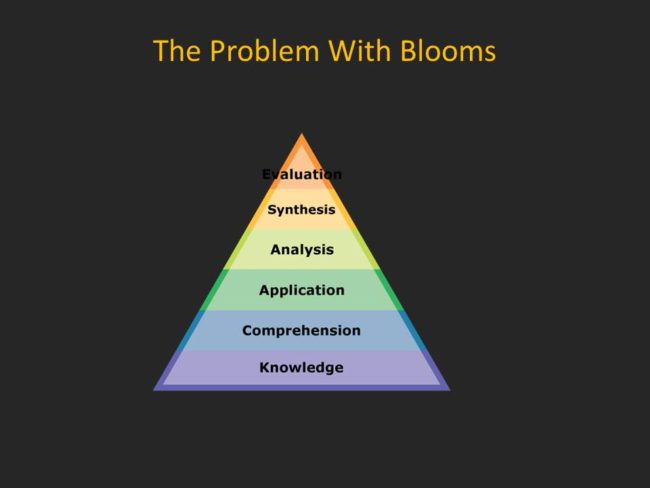 A couple of useful notes though. 1) Bloom's is a 'framework.'  This is to say it an idea—one that's compelling in many ways perhaps but not based on data or cognitive science, say. In fact it was developed pretty much before there was such a thing as cognitive science. So it's almost assuredly got some value to it and it's almost assuredly gotten some things wrong. 2) I was surprised, happy and concerned (all at once) to read the italicized phrase: with the understanding that knowledge was the necessary precondition for putting these skills and abilities into practice.
Ironically this is exactly the opposite of what people interpret Bloom's to be saying. Generally when teachers talk about "Bloom's taxonomy," they talk with disdain about "lower level" questions.  They believe, perhaps because of the pyramid image which puts knowledge at the bottom, that knowledge-based questions, especially via recall and retrieval practice, are the least productive thing they could be doing in class.  No one wants to be the rube at the bottom of the pyramid.
But this, interestingly is not what Bloom's argued—at least according to Vanderbilt's description. Saying knowledge questions are low value and that knowledge is the necessary precondition for deep thinking are very different things. More importantly believing that knowledge questions—even mere recall of facts—are low value doesn't jibe with the overwhelming consensus of cognitive science, summarized here by Daniel Willingham, who writes,
Data from the last thirty years lead to a conclusion that is not scientifically challengeable: thinking well requires knowing facts, and that's true not simply because you need something to think about. The very processes that teachers care about most — critical thinking processes such as reasoning and problem solving — are intimately intertwined with factual knowledge that is in long-term memory (not just found in the environment)
In other words there are two parts to the equation.  You not only have to teach a lot of facts to allow students to think deeply but you have to reinforce knowledge enough to install it in long-term memory or you can't do any of the activities at the top of the pyramid. Or more precisely you can do them but they are going to be all but worthless. Knowledge reinforced by recall and retrieval practice, is the precondition.
Bloom's Delivery Service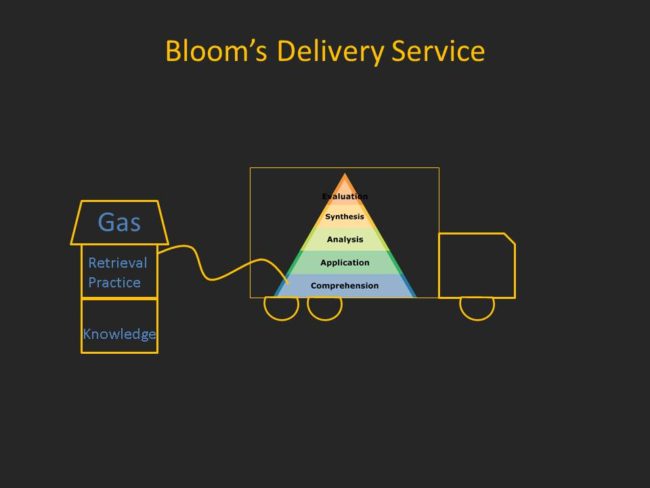 In the spirit of the FDA which recently revised its omnipresent food pyramid to address misconceptions caused by the diagram created to represent it, I'm going to propose a revision to the Bloom 'pyramid' so the graphic is far more representative. I'm calling it Bloom's Delivery Service. In it, knowledge is not at the bottom of a pyramid but is the fuel that allows the engine of thinking to run.  If I had more time for graphic design, I might even turn the pyramid on its side.  You probably want to do quite a bit of analysis and synthesis but only if you've got comprehension solidly in the bag. In other words you kind of need all of the pieces.