09.19.17

Two Cold Calls from the First Days of First Grade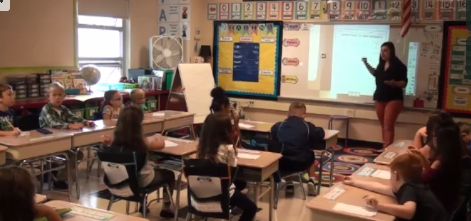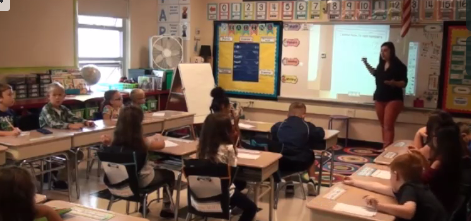 This morning we watched two great clips of first grade teacher Jennifer Crucetti Cold Calling her first graders on the second day of school at Abram Lansing Elementary in Cohoes, NY.
Cold Call, as you may know, is a hugely powerful tool in the classroom when it's a normal and positive part of the lives of students.  When a teacher calls on students whether or not they've raised their hands, she builds a culture where everyone is included and invited into the conversation—even the shy kids. And she builds a culture where everyone is accountable for what happens in the lesson—even those who might otherwise tune out. It allows a teacher to check for understanding by steering questions to just the right student. And it allows her to control the pacing of her lesson—speeding up or slowing down exactly as she wishes.
But teachers sometimes wonder—at what age can you start Cold Calling and how do you start so that it's a positive experience? We think the video from Jen's class is powerful in helping to answer those questions.
Jen's goal is to make Cold Calling a normal part of her classroom—an everyday thing—so she sets out to start using it right away, at the very beginning of the year. But she also wants to make it a positive thing—you can get Cold Called for a variety of reasons—because you have something special to add, because you did good work, because we want to hear from you. And you can see her working to making it normal and positive right from the outset.
Here's Jen's first Cold Call of the day, for example.
Crucetti.Pre.Call.ALCSD.09.07.2017.File1 from TLAC Blog on Vimeo.
It's still breakfast, you might notice, and she's already getting ready to Cold Call—using a pre-call as you can see. Circulating she sees that Ava has done exemplary work.  So she tells her in advance she's going to Cold Call her to share when they review this problem. This ensures that the first Cold Call will celebrate success and be positive from the students' perspective. But Jen goes a step further than just telling Ava she's going to ask her to share her work. To make sure she knows what to say she rehearses a little with her. She tells here what about her work—what part of it—she wants her to share.
We then cut to her Cold Call. Jen notes to the class that Ava found a different way of solving the problem from the one they'd just talked about, thus emphasizing that Ava is being Cold Called because her ideas were special and unique. Jen asks for 'tracking.'  Everyone looks at Ava as she's speaking. This reinforces that they are listening carefully (and not incidentally helps them to listen carefully) and shows Ava that her words are important.
Ava then crushes it and Jen responds with warmth and positivity.  Ava might not have known that she could be the one to speak up and shine when she came to school this morning, but she knows it now!
The next Cold Call happens a few seconds later.
Crucetti.ColdCall.ALCSD.09.07.2017.File1 from TLAC Blog on Vimeo.
This time it's Brandon and this time there's no pre-call—Brandon doesn't know it's coming—but it's still super positive and still based on success. Jen says she called on Brandon because he 'rocked it.'  He knows right away it's a good thing. That she knew Brandon was the right kid to call on reveals something important about her Cold Call. She's 'hunting not fishing'—that is, she's been circulating looking specifically for work that she can use to show the class rather than calling on students at random and hoping their work is relevant. A little careful observation and Check for Understanding makes her Cold Call a lot more strategic.
Jen now starts to build in the culture of accountability. She asks Zachary to explain what Brandon did. Zachary knows the answer but perhaps he wasn't listening as carefully as he could have to the process Brandon used.  A follow–on… Cold Calling a student to respond to what a peer said.. will start to build that culture. Jen is still super warm but the expectation of listening is reinforced when—using Right is Right—she explains that she asked a different question from what Zachary answered. He'll have to be a bit more attentive next time. Next she follows-on with Jackie, who is able to explain Brandon's thinking, and finally she comes back to Brandon for a 'follow-up" which is a Cold Call that returns to the original student and asks for further info. "What did you do next, Brandon?"
Here again there are two messages—Brandon is being celebrated because his work was good and so he gets to tell more about it but there's also the message that you don't stop listening and shut off once you've been called on. You stay locked in in Ms. Crucetti's class because she might just come back to you.
In just a few minutes she's set the ground work to have Cold Call as a normal and positive operating system in her first grade classroom all year long.
Thanks to Jen for sharing her classroom. We hope you're all able to steal and adapt some ideas.