11.22.13

Inside the Box: Disciplined Discussion–Part III, The Film (Video)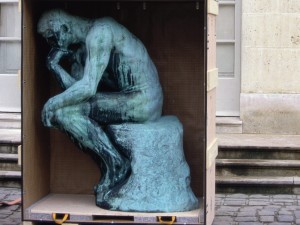 My colleague Joaquin Hernandez sent me a note yesterday afternoon. He'd read the two blog posts I did on keeping discussions on topic–I called that getting discussion a bit more "inside the box"–and he wanted me to see something. As a coincidence he'd just cut a montage of Uncommon's Ryan Miller for discussion at one of our team's video development meetings, but Joaquin thought I might want to share it now as it's useful and apropos of the discussion. I completely agree.
In the clip, Ryan, who teaches 8th grade History at Williamsburg Collegiate in Brooklyn, is teaching his students to hold a "Socratic discussion." The topic here is the Panamanian independence movement in 1903 and students are using primary source documents to evaluate the veracity of President Roosevelt's claims about the extent of America's involvement.
Two quick notes for context about Socratic discussions.
1) They are powerful and rigorous, partly because Ryan and his colleagues use them rarely. They are deep student-led discussions where the teacher "steps back"; half the students participate in the discussion and half the students evaluate their discussion.  Ryan scores their participation.  Or eventually he will. Here, though, he's actively teaching his students to have a focused and productive discussion.  The rigor is impressive but, it's worth noting, is predicated on lots of time spent learning historical context via other modes of teaching, including direct instruction.  As Daisy Christodoulou points out in her fantastic book Seven Myths About Education, activities like this only work when the students involved are using deep knowledge of a topic.  If you did this all time without investing in their content knowledge the discussion would be ill-informed and non-rigorous.  So this video does not imply that direct instruction on historical content is not important. The opposite. The strength of the discussion is predicated on it.
2) While you'll probably love the Socratic structure, the key points here can apply to any class discussion of any format. So, enjoy the Socratic seminar, but don't focus on it exclusively.  His actions in teaching students to discuss productively could happen in any setting.
My favorite point in the clip–and a big reason why I wanted to share it–comes at 3:04 when Thomas makes a smart comment but Ryan jumps in and says, with a warm smile, "Real quick, I like your transition there but I think that Kiarrah was making some interesting points there that it'd be interesting to follow up on."  Translation, let's stay on topic and respond to the previous person's observations.  And look how they go back to the text when he does this. The conversation gets deeper rather than broader.  To me that's wise teaching and a great investment in making every future discussion stronger.
There's lot's more of value in Ryan's clip so I'm including the talking points Joaquin developed below.  Hope you enjoy it:
A few things stood out to me:
 Note that these students are participating in their first Socratic seminar of the year. Given that, Mr. Miller is wise to intervene when he sees opportunities to clarify and/or reinforce the following expectations:
Respond directly to or build off peer's contributions. Tangential or isolated comments that don't develop the group's shared understanding are not encouraged (see Cut 2). Students are taught to honor each other's contributions by directly engaging them.
Discussion is a team sport. This is not a debate—it's a dialogue or discussion. The goal is for students to work together to generate and refine their ideas, not to "win" an argument or outshine one another.

Expect to explore an issue from multiple vantage points and points of view. Example: In cut 2, when it seems like students are all beginning to repeat each other's points ("echo chamber effect"), Mr. Miller redirects students back to their documents and challenges students to find evidence that supports a different (Roosevelt's) perspective.
Mr. Miller's corrections are an exercise in Purpose, Not Power. He avoids making corrections personal, but instead frames them in terms of the goal–which is to engage in a quality discussion– and delivers them with warmth (at times even adding a smile). This signals to students that his corrections are about discipline—teaching students the right way to engage in a productive, collegiate seminar discussion—not about publicly shaming those who don't uphold them.
Mr. Miller Continually Assumes the Best. He knows students are new to seminar, so he doesn't attribute culture breaches (e.g., students talking over each other) to ill intentions. Rather, he turns them into opportunities to reground them in the norms. Example: "I appreciate the enthusiasm to get other people involved…but you can't interrupt others to get people involved." Then, he refocuses everyone on the content with a class-wide task: "I want everyone to take five seconds to look back at their documents and think about a point you want to make tying something to a specific sentence from Roosevelt's autobiography." 
His interventions are fast and refocus students on the text. He jumps in, restates his expectations, Describes the Solution (or what he wants them to do differently), and then prompts students to revisit the text. This gives students a brief moment to collect their thoughts so that they can be ready to join the discussion once it resumes. He gets in and gets out, and the discussion is better for it.
First, thanks to Joaquin.  Now— what are your thoughts?