06.03.13

Learning to Trill: Great Music Practice with John Burmeister (Video)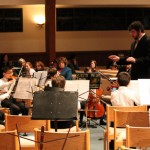 There's only one thing better than a great teacher who accelerates your learning at something you care deeply about—a great teacher who accelerates your children's learning about something they care deeply about.  As a dad I've seen my kids grow not only with great classroom teachers but great music instructors, soccer coaches and the like.
At our upcoming workshop on practice (in Albany on June 6 and 7) we'll be screening video of great teachers leading practice, both within traditional classrooms and outside them. One of my favorites is this video of music teacher John Burmeister working with one of his cello students.
Some of the things I LOVE about this video:
Tone: Gentle supportive positivity. Not over-the-top and canned: just quiet thoughtful appreciation and patience.   It comes in response to brave effort as much as success.  Plus, you can't really hear the difference between when the student is getting it and when she's not.  He's just steady-as-you-go positive.
When the student does it well he responds, "Beautiful. Do it again." And then: "3 more times, just like that."  So simple; so smart! He's inscribing and encoding the successful moment in her memory so it's more likely to happen again.  How often do we say something like "Good. You got it! Now move on…" The reward in John's lesson for getting it right once is that ability to get it right over and over.
When the student struggles a bit to get it just right he is clear calm and direct about what to do differently—his tone is exactly the same as when she's successful—he models with his voice and on his own cello and then gives her a challenge—"Can you get two of the movements here [demonstrates]."  Great example of a Positive Framing challenge.  He then keeps gently pushing her– "That's closer. Keep working"–capping her eventual success with my favorite phrase of his; "That's it.  Do it again."
What great teaching!  Thanks to John, who's both a private music teacher and the music teacher at Troy Prep Elementary, and his student for letting us video tape their lesson!