10.26.21

A Hard Time to Be a Teacher, Pt 2: Free Reading Reconsidered Lesson Plans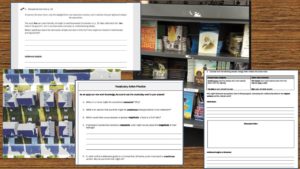 Two weeks ago we wrote about how hard it is to be a teacher right now.  The challenges and pressures of returning to the classroom combined with unprecedented staff shortages have put everyone under intense pressure.
Perhaps the most powerful action schools can take right now is to invest in providing teachers with a meaningful curriculum that engages students and leads to academic gains. That means infusing lots of background knowledge and carefully crafting writing activities and the like. That's hard work but when done well a good curriculum can reduce teacher workload by lessening the time needed to prepare highest quality lessons. This time can be spent working individually with students, covering for colleagues or just maybe making dinner for one's own family.
Great curriculum- rich, detailed, carefully planned but not "scripted" is a win/win.
With that in mind, we're offering a sample unit adapted slightly from our Reading Reconsidered Curriculum free to all teachers. It includes four short stories and three poems and, we hope, can yield a meaningful and rich learning experience for students across the broadest range of grades. (Our curriculum is written for grades 5-8, though schools use it from grades 4-10 and we think these lessons have broad applicability too.)
The sample unit consists of about five weeks' worth of full of carefully crafted daily lessons, with student materials included as well. We've taken those lessons in part from our unit on Narrative Short Stories, in part from our unit on Science Fiction Short Stories, and in part from our unit on Poetry.  In it students will read the following short stories and poems:
"The Stolen Party," by Liliana Heker
"Marigolds," by Eugenia Collier
"Robbie," by Isaac Asimov
"There Will Come Soft Rains," by Ray Bradbury
"The Weary Blues" by Langston Hughes
"Dreams" by Langston Hughes
"Harlem" by Langston Hughes
Each lesson is designed for a 90-minute reading block with opportunities to adjust based on your school schedule… which also means you could easily get more than five weeks of still-valuable and knowledge rich, less-than-90 minute lessons from it!.
The lessons were originally written for 7th and 8th graders but again we think could easily work for  6th and 9th graders and perhaps beyond, especially if you made small adaptations (they're in MS Word so that's easy to do).
The materials are aligned to TLAC 3.0 and Reading Reconsidered and include student packets complete with embedded non-fiction and lesson plans containing time stamps, questions, teacher facing key ideas, possible means of participation and Break It Down questions.  There's explicit vocabulary instruction, various types of writing prompts (formative, developmental and supplemental), as well as Do Nows, Exit Tickets and optional homework assignments.  We also provide the Knowledge Organizers from each of the original Reading Reconsidered Units in order to support students' knowledge building.
Though we recommend that you use these lessons as a unit, they can also stand alone if you are in a pinch and need a few days of (really good) materials.
We hope that these resources give you back some time, and make this challenging year a bit more manageable.
Click here https://teachlikeachampion.org/lifeboat-series/  to download the Reading Reconsidered Sampler Unit.
If you have a question about the materials or want to learn more about the curriculum email us at  TLAC_Curriculum@uncommonschools.org