03.22.13

Grady Middle School: The Highlight Reel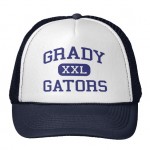 Last night, in Houston, we went out for dinner and my hosts introduced me to fried pickles and Frito pie at dinner, but today Grady Middle School they had something even bigger in store for me. At Grady, the game was on for real! Classrooms were rigorous and content-rich and TLaC-aligned. Here are some highlights:
Check for Understanding from Ms. Merrill-Brown's math class. Jessica put a proportion problem on the board and students solved it gamely and logged their responses via clickers. Hooray! 90% got it right. But while they were working, Jessica was circulating to observe intentionally for mastery… and reliability. "I'm glad so many of us got it right, but I didn't see what I am looking for on enough pages. I want to see you set up your proportions like this," she said, demonstrating on the board how to set up a proportion so the process is done right. "Correct it on your paper now." Correcting 'right' answers? Yup, because to Jessica what matters most is the positive results were replicable and scalable. Will they get it right when the problem gets harder? Only if they set it up the right way. A case study in using strategic observation and checking for reliability… always asking "could that be a false positive?
Over in Ms. Hudson's 8th grade English class they are reading The Great Gatsby which, if you've been to our reading workshop and had a preview of our forthcoming book on reading, you probably know brought joy to my heart . Rigorous complex reading is the first step to rigorous and demanding lessons. Also, Ms. Hudson stressed "intellectual autonomy," by asking her students to all come to class with "questions that you think will contribute to the discussion." Powerful for students to identify the ideas in a text that are worthy of discussion.
Meanwhile Mr. Harrist's Social Studies class they were also digging in to challenging and slightly archaic text. In this case a mock-up of a copy of Frederick Douglass' abolitionist newspaper the North Star and Ms. Hodgins' Spanish class featured a great game where kids got to guess one another's word from clues, capped off by a perfect demonstration of "the faucet" and an impeccable balance of fun and strong voice.
Finally, Mr. Gribbin's drama class was a passionate reading of Romeo and Juliet in which the reward for a right answer was almost always a harder question? How do you know that? Can you prove it from the text? Why might they have thought that way? Does the text really say that? (and when the answer was 'no') so what made us all think so if the text doesn't really say that? It was a true virtuoso performance of dynamic teaching, passion and the fact that there is no substitute for rigorous content.
By the way, Ms. Hodgins had the best new suggest ion for how to use Cold Calling that I've heard in a while. "I like to use it in my planning," she explained. "I can choose a kid who's maybe a little low, struggling a bit and use Cold Call to let him shine a bit." I thought that was a super idea—we increasingly see "data-driven cold calling" from our top teachers, but it really turns the thinking on its head. Many teachers worry about what could go wrong if they cold call their strugglers. Ms. Hodges recognized it as a way to let them succeed in a way that felt rigorous and real and maybe even a bit surprising to them. Love the way a great teacher sometimes turns conventional thinking on its head.
Speaking of which—we asked the lead teachers at Grady what was working best and they immediately noted Show Call*. "They're crazy for it!" the teachers told us, "They're always asking, can you show call?! They're proud of their work and they want to show it off." So here's the net on my visit: If you saw a guy changing planes in Cleveland today with a "Grady Gators" t-shirt on, that was me. I had to represent!
*Show Call= a visual Cold Call executed by taking a student's paper and putting it on the document camera… it's a 2.0 technique that we've seen developed since the original book was written… you have to come to one of our workshops to find out more!